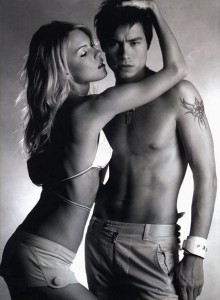 Every Wednesday I get to dissect a sex or relationship dream for my friends at Em and Lo: Sex, Love and Everything In Between This week's dream is from a married woman who is having naughty dreams about a hot Asian guy…
I love my husband, but lately I have been dreaming of another guy I don't even know. In the dream this Asian American looking guy kisses me then undresses me and gently fondles my breasts and starts sucking and kissing my breasts. At that moment I wake up. I feel like I am lying to my husband when he asks about my dreams, because I tell him they're just fine. Can you please help me?
Lauri: Certain naughty dreams that we get from time to time probably are best kept to yourself — not that they mean you desire to get your pleasures elsewhere, but they can cause your mate unnecessary upset. So don't feel bad for that little white lie.
That being said, let's get to the meat of this dream! When interpreting your dreams, it is always important to remember that everything and everyone in your dream is actually representative of some part of you (unless that person is someone you deal with on a daily basis). So, this hot young Asian man is not some mammaphile out there, dreaming of you at the same time, but rather he is a part of your own personality. He is Asian because he is a part of you that feels "foreign" and unfamiliar to you.
Notice his obsession with your ta tas. Breasts in a dream are connected to your own ability to nurture and mother something or someone in waking life. It seems that somewhere in your life you need to — or you have — put your nurturing skills to work, even though it may feel like foreign territory to you. Does hubby, a friend, co-worker or family member need a little TLC? Do you have a project or idea that needs some care and nurturing? Or do you need to take better care of yourself? Whatever it is, your dream is showing you that this caring act — like getting to second base — can be quite pleasing to both parties involved.
Dreamer's response: Wow my dream makes WAY more sense now. I have been trying to have a child with my husband for a couple of years now, but due to finances we keep putting it off. Due to the fact I have PCOS, we know it can get expensive for fertility treatments, so I have avoided taking care of myself and the issue. I guess my brain is telling me to face this head on. Thank you so much!
Got a dream you're wondering about? You can find out what it means in just seconds from now! Get instant, immediate access to my HUGE online dream dictionary (over 5800 symbols), my interactive dream journal and tons of other powerful dream working tools. For a one time fee of only $9.90 you can have everything you need to easily figure out your dreams ANY TIME YOU WANT! You'll never have to wonder what your dreams mean EVER again. Find Out What Your Dreams Mean Right Now
"I used your dictionary to look up some of the symbols in my dream and wow….  I had no idea that dreams could tell so much! It's great to have this understanding and I wanted to thank you."   – Patty, Toledo, OH