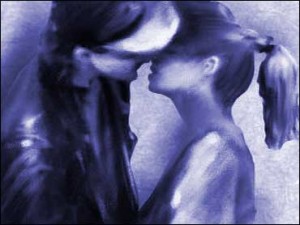 Every Wednesday I get to dissect a sex or relationship dream for my friends at  Em and Lo: Sex, Love and Everything In Between  This week's dream is from a gal who gets awful busy in her dreams…
I am in a relationship. It has its ups/downs but I love him. Yet I have recurring dreams about having sex with other men. Actually, I've even had many dreams about having sex with women. Recently I dreamed I had threeway sex with my boyfriend and another man. What could this mean?
Lauri: Usually I need a few more details so that I can give you more insight into what you may be telling yourself through the dream. For example, the actions leading up to the sex, whether these other men are actual people you know, the setting of the dream, etc. But I believe the way you opened your message says enough. It seems that, even though you do indeed love your boyfriend, there is something missing in the relationship as far as you are concerned. Keep in mind, sex in dreams is rarely about physical sex you desire but more about filling a void in your own life or in your own personality.
Is the ol' intimacy department A-Okay? Is he able to hit all the right buttons, rub all the right spots, and tickle all the right magic areas for you? If so, then these dreams suggest the relationship itself — not the sex — is lacking certain qualities you desire. Take a good look at the men you are partnering with in the dream. Is there anything about these people, any quality or behavior of theirs that you wish your boyfriend had…or even that you wish you could possess? Having an awesome job or being a good listener, for example? The girl-on-girl dreams may indicate that you desire a partner that is more sensitive to your needs, a better listener, more empathetic…like we gals tend to be! And that fun dream with you, your boyfriend and another man, well, again another indication that you may need a bit more in your relationship…NOT MORE GENITALS…just more attention.
Strange sex dreams, death of a loved one, weird things happening to your body… It's ALL in there!  Grab your copy of So, What Did You Dream Last Night?  and understand your dreams like never before!
"I used your book this morning and decoded my dream. Awesome!!"  – Brook, morning show host on WUHU Bowling Green, KY