Book Lauri on Your Show and Watch Your Phone Lines EXPLODE!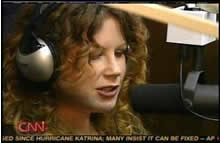 Have your listeners call in with their craziest dreams and Lauri will show them what it means, how it is connected to what is going on in their life right now AND even the advice or warning the listener is giving themselves through the dream…. All within 2 minutes or less!!
Lauri has been one of the most requested guests on the morning drive circuit for over 10 years straight. She is a pro at taking live calls, gets right to the meaning of even the most bizarre of dreams and knows how to work within the new PPM system.
Listen to a sample of me in action!
How a Snake Changed a Womans Life
Don't Take Live Calls? No Problem.
Lauri Will WOW Your Listeners With These Fun Talking Points…
The 3 Things You MUST Do to Figure Out Your Dreams
3 Super Easy Steps To Remembering ALL of Your Dreams
The Most Common Dreams and what they are trying to tell us:
Falling
Being Chased
Naked in Public
Losing Teeth
Back at school …and more!
Most Mystifying Myths and Fascinating Facts about dreaming:
5 common myths
We dream in black and white
We don't dream every night
If you have a falling dream and hit the ground you might actually die in real life
Dreams don't happen in real time
5 fascinating facts:
Find out why dreams are so hard to remember!
Find out why we don't act out our dreams
Find out which animals dream and which ones don't
Find out why our eyes move when we dream
Find out if infants dream… and more!
Find out what SEX DREAMS Really mean and which gender has the most orgasms while dreaming. And More!
In a PPM world, you're a dream!
– Ron Olson, FM100 Memphis, TN
That was a great interview. We need to get you on more of our shows!
– John St. Augustine, Oprah Radio
I love having you on the show. It's always so riveting!
– Val, WOGL Philadelphia, PA
I appreciate you helping make our show good. You were awesome!!
– Kelly Ford, KYGO, Denver, CO
Lauri is an AMAZING and COMPELLING guest who gets it and listeners of all the shows I have worked with love her. Men and women!! She understands how to get to the point in a quick and effective way which is super important these days.
– Melissa Bunting KDRK, Spokane, WA
It's always great having you on the show. You are always dead on and we always get lots of compliments after the show. People are always asking about you.
– Frankie KZHT, Salt Lake City, UT
Just wanted to say thanks again for coming on the show today! Our listeners and Rover really enjoyed it. Very fun and informative!
– Shaun, producer of Rovers Morning Glory, Cleveland, OH
Thanks for coming on the show. It was fun and we certainly hope to have you on again in the future!
– Spice, producer for Bubba The Love Sponge
"Thanks again for being "The Wake-up Service" with Kevan Seal this morning. You did a FABULOUS job. We had all 10 lines lit, but we could not get to everyone (obviously), but you truly are superb.
– Kevan Seal, KOOL 106.1 Tulsa, OK